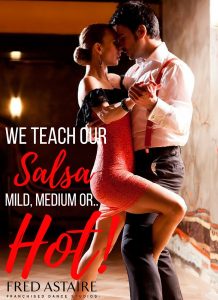 Fred Astaire Dance Studio (FADS) of Reston, Virginia wants you to save this date and make good use of it: Friday, Jan. 25.
That's when we're having our Salsa Latin Party. We're going to do a lot of dancing and a little bit (well, more than a little bit) of partying as well.
The night will focus on all of your favorite Latin dances – Salsa, Rumba, Bachata, Meringue among them.  We will be serving traditional food to accompany the mood – salsa and chips, plus a taco buffet and sangria. High-energy dances and tasty dining – it's all good!
There's no dress code, but always dress to impress. The party starts at 8:15 p.m.  The group class at 7:15 p.m., just before the Salsa Latin Party, will be Bolero with some Latin flare to get those hips moving.
All private coaching sessions with Martin Lamb on Thursday, Jan. 31, have been snapped up – Martin is always in high demand – but there is still plenty of room in his Group Class at 7:30 p.m. where he will be focusing on Latin motion and teaching an easy Rumba combination. The cost is $35 to work with this superb dance instructor and offers you tremendous value.
FADS of Reston, Virginia offers the best in private ballroom dance instruction and group ballroom dance lessons. Our expert teachers and coaches are waiting to work with you! We provide high-quality ballroom dance instruction for Reston, Ashburn, Sterling, Centerville, Chantilly, Fairfax, Fairfax Station, Vienna and the Tysons Corner area.
Come on in for a visit and start dancing with us!